Julie Taymor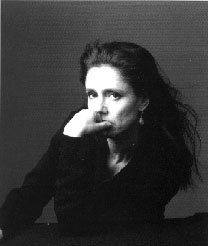 The Director, Costume Designer, Mask/Puppet Co-Designer, and Additional Music & Lyrics Designer. Julie directs theatre, opera, and film. She made her Broadway debut in 1996 with her production of Juan Darien (Lincoln Center's Vivian Beaumont Theatre), which was nominated for five 1997 Tony Awards. Other theatre work includes: The Green Bird, Titus Andronicus, The Tempest, and The Taming of the Shrew; Juan Darien; co-adapter and director of Transposed Heads and Liberty's Taken; designer and choreographer of The King Stag.
Opera direction: The Magic Flute; Oedipus Rex; Salome; The Flying Dutchman.
Film: Fool's Fire, an adaption of Edgar Allan Poe's Hopfrog for American Playhouse. She is currently preparing to direct a feature film of her adaption of Titus Andronicus. Ms. Taymor's awards include a MacArthur Foundation Fellowship, a Guggenheim Fellowship, an Emmy for Oedipus Rex, Obie awards for Visual Magic and for Juan Darien, the Brandeis Creative Arts Award, the Dorothy Chandler Performing Arts Award, and the International Classical Music Award for Best Opera Production (Oedipus Rex). Playing with Fire, a book spanning 20 years of Julie Taymor's work, was recently published by Abrams, and is available at Amazon.com along with her latest book, The Lion King: Pride Rock on Broadway. Julie won two Tony awards for Lion King, including Best Director in a Musical.
Director: Julie Taymor